Talking about ecology, climate, biodiversity often results in being assimilated to a pain in the ass. "It's ok, I understood, stop making us feel guilty now!"
There is an important misunderstanding between the intentions of the 'ecologists' and the reactions generated. A society where we talk to each other less and less and where we prefer to shout at each other on social media. As an example, I personally received death threats on Twitter for suggesting to lower the speed to 110km/h on the highway. You read that right: death threats for a simple measure recommended by the International Energy Agency and which is a consensus among scientists on the decarbonization of transport.
But finally, what do the ecologists want? What if they had something else to do besides annoying you?
Difficult awakening
I've been wanting to write this article for months. Particularly since a radio passage in La Terre au carré where Thomas VBD said quite rightly "as soon as one is an activist one has a boring side". It is a fact felt by thousands of people and a posture that we wish to avoid at all costs: the atmosphere breaker.
But guess what: activism is rarely for fun. What do you think? That we get up in the morning and say ""Here, I'm going to piss off Michel because he's going to make a return trip to New-York! Here I am going to piss off Claire because she just bought an SUV! And then Gerard who eats too much meat !"
Do you think it's fun to talk about climate in the middle of a war, and to be accused of "bringing everything back to its cause"? To take the time, every day, to repeat that the consumption of fossil fuels causes global warming and that the billions paid to certain dictatorships gives them enough power to invade other countries?
Do you think that climate activists only have to go and call out the digital nomads? Influencers who are burning the planet? To have to endure the comments of toxic men on the networks who come to tell you anything without ever sourcing, while having the assurance of a Didier Raoult and an Idriss Aberkane together?
Finally, when climatologists have been warning for 30 years about the climate emergency and end up chaining themselves to the doors of the bank that finances the most energy in the world, do you think it is for pleasure? Or do you think there might be a problem?
Why do we insist on this damn climate change?
If the ecologists have been questioning the whole of society for years, it is neither for the pleasure of being right, nor for moral superiority, nor for the pleasure of annoying you.
Let us first try to understand these strong reactions. They are partly the result of a lack of information about global warming and the collapse of biodiversity. Indeed, the media is not up to the challenge, and each year of inaction increases the chances of more frequent and intense climate hazards. Bad news: France is not ready and this lack of preparation will lead to material and human losses.
Many misinformed people think that climate change is far away, and will only affect others. This is a mistake. Climate change is already wreaking havoc around the world, including in Western countries.
For the year 2022 alone, disturbing information has accumulated on the climate side. Bad news from the Amazon, which would be on the verge of passing a tipping point (and thus become a savanna), but also a tipping point alert from the permafrost, and record temperatures, "never seen" from the Antarctic. There is no need to remind that some regions of the world are sometimes made unlivable, like India or Pakistan, which have been suffering from heat waves, droughts, mega-fires and floods for two months.
France is also concerned by all these climatic hazards. The National Hydrological Situation Bulletin (NHSB), for example, refers to a "particularly worrying" situation. As of May 11, 2022, 15 departments are already subject to water restriction measures (compared to 12 in 2021 and 6 in 2020). If you're not concerned about the map below of territories at risk of drought by the end of summer 2022, it's probably because you don't understand the implications: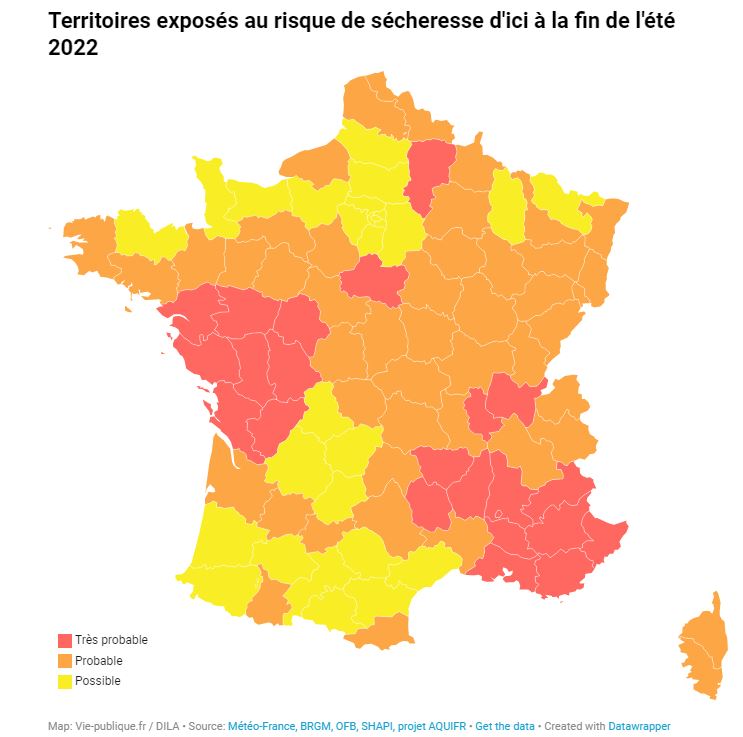 Freedom, punitive ecology
The changes desired by the ecologists are sometimes assimilated to punitive ecology or to an attack on freedoms. Let's take the problem another way: how will your freedoms be in a world with +2°C of global warming? At 50°C in France in the summer, you will be more free? Are you sure you know what +2°C on a global scale represents?
Here is an overview, taken from the latest IPCC report: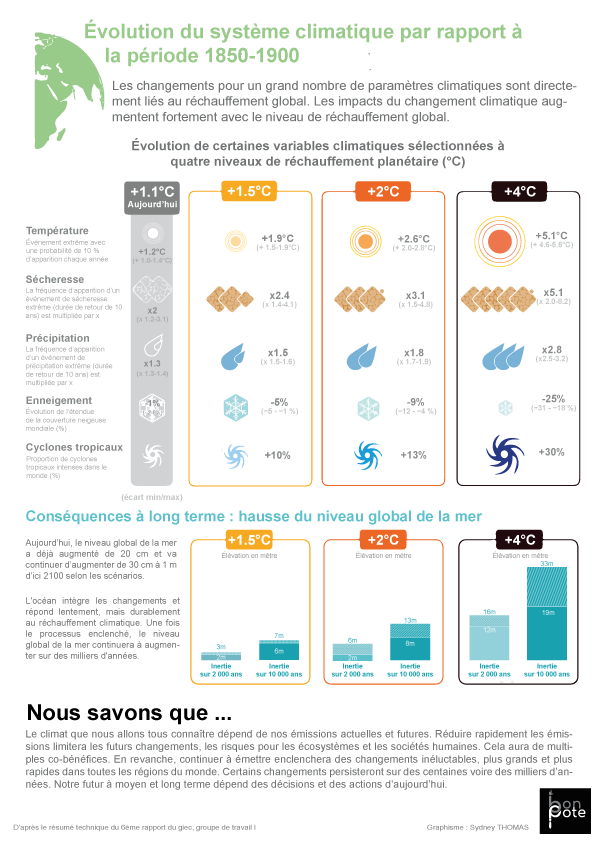 Talking about punitive ecology does not really make sense. But surely, without an understanding of the issues and risks, how could you accept changes that look like they will affect your freedoms?
When climate activists call for lowering transport emissions, which are responsible for 31% of emissions in France, do you think it's for the sake of harming you? Do you think that asking to reduce the use of private cars is a liberticidal measure, or on the contrary necessary to both respect our climate commitments and help hundreds of thousands of French people for whom the car is a prison? Who likes to drive 1h30 in the morning and evening in traffic jams to go to work?
It is exactly the same for fuel poverty. It is a scandal that successive governments have not taken the problem in hand and have not done everything to get the 4.5 million French people concerned out of this energy insecurity. Is it punitive ecology to ask the State to force the owners to insulate their houses, while ensuring fair aids and subsidies?
Let's repeat it: there is enough wealth in France for all French people to have decent housing, heating, and proper food. If this is not the case, it is because some people have made choices and are maintaining these situations. Call it lack of political will, climate inaction or criminal choices, the result is the same. In the end, it is very often the same people who benefit and the same people who pay the price.
You have to know what you want
Climate activists are not here to mess with you. they are fighting to keep the Earth habitable for as many people as possible. They fight so that the small pleasures of some cannot ruin the lives of others. So maybe it's time to reverse the roles: put yourself in their shoes, and try to understand why these people are on the street or calling you out on social networks. It is neither for moral superiority nor for the pleasure of being right: it is a question of survival.
The good news is that we have our climate future in our hands. It will depend on the future we want. The choice is very simple: either we change, or we stop pretending, and we assume the consequences.
This choice will have to be the result of democratic decisions, where all French people would know the environmental (and thus social) stakes. If, after reading, you realize that continuing without change will lead us to a future that may not be desirable, you will also understand that the situation requires a certain radicality.
Radicality is not to stop sending an email with an attachmentas expressed by the new Minister of Energy Transition, Agnès Pannier-Runacher. Radicality means understanding that all sectors without exception must change. Understand that some sectors must drastically reduce their core business and reorient themselves. It means accepting that some things are not possible and will no longer be possible, like the 2022 World Cup in Qatar.
Since every ton of CO2 emitted contributes to global warming, everyone will have to take responsibility. Governments, businesses, local communities, citizens Climate inaction is no longer acceptable. The climatic choices are no longer acceptable. The lack of political will is no longer acceptable and is already criminal. When the IEA and the IPCC write in black and white that nothing new should be built in fossil fuels and that oil and gas infrastructures should be shut down prematurely by 2050, it is unacceptable for Total to continue to launch new projects all over the planet.
Finally, climate activists are like climatologists and would only dream of one thing: being wrong. That their work and speeches are completely wrong, that we are not responsible for climate change and that we only have to solve the other problems. This is unfortunately not the case. We are responsible for global warming, there is no doubt about it, and neither denial nor procrastination will get us out of this mess.