Talk about sport and ecology and you will be compared to a dictator. Talk about football and boycotting the 2022 World Cup and you will be persona non grata in the evening. As we are in the middle of Covid, I will take the opportunity to do so.
This is an article that has been open for almost a year, that I simply never wanted to finish. As a football fan, it is a perfect example of a beautiful cognitive dissonance. Supporting PSG and fighting for social and environmental justice is like loving animals and eating them for 30 years… or write about flying when your best friends live on another continent.
Whether you're a fan or not, the World Cup in Qatar should interest you in more ways than one. You don't have to be a Zidane fan to understand the financial, political and geopolitical implications of this event.
Love of football, at any price?
My cognitive dissonance regarding football is not new. I'm one of those people who get more pleasure from a 92nd minute Pancrate goal in the French league than a Neymar goal in the Champions League. For example, I was unhappy (or even opposed) to the takeover of PSG in 2011 by QSI (Qatar Sports Investments). I knew that the love of the shirt would become secondary and that the majority of players would come to PSG only for the money. However, this opposition was soon swept aside with the arrival of prestigious players such as Zlatan Ibrahimovic and Thiago Silva. Even if you know that these players come for the money, little by little, your ethics quickly fade with the wins.
I've been putting up with remarks about PSG and "Qatari petrodollars" for 10 years. Far from denying it, I've always tried to get past it, demonstrating an ironclad whataboutism: "yeah, well, the Marseillais have bought matches! Unfortunately (or fortunately), there always comes a time when closing one's eyes is no longer enough and some drops of water make the vase overflow. The least we can say for this 2022 World Cup is that the cup is full.
Why boycott the 2022 World Cup?
Even before it begins, the 2022 World Cup has been the talk of the town, with many tasks already underway.
Firstly, its attribution. For 10 years, the awarding of the World Cup to Qatar has been marred by suspicions of corruption, involving both politicians and FIFA officials. Between Platini, Sarkozy and Zidane (who had received "several million of which he did not receive a cent, all of which went to his foundation"), we quickly understand that the stakes are enormous.
Secondly, the conditions under which the stadiums (and the infrastructure that goes with them) were built. Indeed, Qatar has embarked on an unprecedented construction programme in preparation for the 2022 football tournament. In addition to seven new stadiums, dozens of major projects have been completed or are underway, including a new airport, roads, public transport systems, hotels and a new city, which will host the World Cup final.
It is a fact of life that there is work to be done at every sporting event of this magnitude. What is deplorable, however, is that NGOs have been warning since 2012 about the conditions in which the workers, the vast majority of whom are immigrants and have been exploited for a decade now, are working, without anyone seeming to be moved by this. A month ago, the Guardian revealed that more than 6,500 people had lost their lives in these construction sites, without any major politician stepping up to the plate (although the 6,500 figure is about as reliable as the Covid death toll in China). This is not necessarily a surprise when we know the relations of French (and European) politicians with Qatar, but we could have expected a statement, an indignation, a gesture since 10 years.

It would also be very interesting to highlight the names of the companies that went there to do business for 10 years while turning a blind eye. In preparing the article, I came across testimonies from people going back to 2014, alerting to the inhumane living conditions of the workers on the building sites, with obviously a level of racism capable of making Darmanin pale in the morning. Ethics or money, the two rarely go together.
If you are still not shocked by what you have just read, it is because you think it is normal that football players paid several million per year go and play for a month in stadiums built by workers risking their lives and paid €1 per hour. You are lucky, it's not over yet.
Playing football while it's 50°C ?
Of course, nobody understood the awarding of the World Cup to Qatar in 2010. How can you play football when it's 40 degrees in the shade in June, and up to 55 in the sun? To remedy this problem, Qatar has found two solutions.
Firstly, to change the global football agenda. Instead of the competition being held in June (as it has been for decades), it will be held from 21 November to 18 December 2022. After all, why not? This is already the case in other sports.
Secondly, if it is hot, don't be silly: turn on the air conditioning! Qatar had already started to air-condition the streets, why not do the same with the stadiums? All stadiums will be air-conditioned for the competition. You should definitely take a look at the communication from Qatar and FIFA, it is really worth it. The stadiums will be ecological! As everyone knows, a stadium (even a demountable one) has absolutely no environmental impact. We are at a level of communication worthy of BNP Paribas which pretends to be a green bank while lending 41 billion to fossil industries in 2020.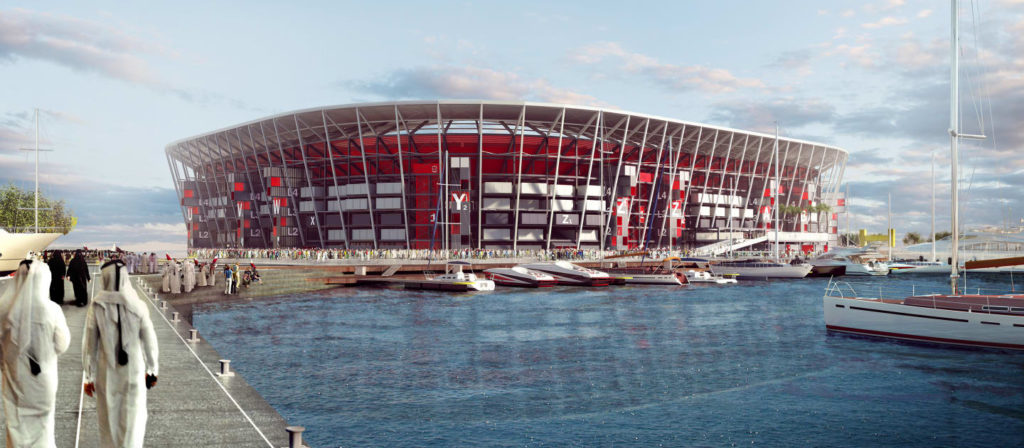 The prize for greenwashing goes to Qatar's environment minister, who promised a "carbon neutral" World Cup 2022. I think that even without having read thearticle on carbon neutrality, an alarm should go off in your brain. In our interview with Delphine Benoit-Mayou, we learned that 95% of the carbon footprint of the 2019 World Cup was linked to the spectators, 75% of which was carried by global air transport, with the remainder relating to accommodation and catering. It is obvious that tens of thousands of spectators will come by bike to Qatar, or by sail…
When I asked Delphine the question "can we say that one day a World Cup will be carbon neutral", the answer was clear: "To achieve this, we must no longer organise a World Cup, and I am obviously not in favour of this". The difference in communication between the Qatari government and an expert on the subject therefore differs slightly. In a world where the ecological emergency demands a rapid and unprecedented transformation, it seems that some people have not yet understood that greenwashing is not going to help our business.
Athletes are not pawns
I have little taste for the prejudice that artists and sportsmen are there to provide entertainment and should not venture into other areas.
Quite the opposite. Fame should be used for the benefit of society, especially when you have such a privileged position as a professional football player. The refusal to accept must not stop at the business world or politicians: it must extend to the whole of society, including professional sportsmen and women. Take, for example, this statement by Robert Pires:
"It is "almost cruel" to expect footballers to boycott such an event: "You have to see the sacrifices, the self-sacrifice, the luck and the talent that it takes to get there. From childhood, we are sucked into a race where only the best manage to get even a professional contract. Our careers are short and very few of us actually earn a good living. So playing in a World Cup is still a privilege you can't spit on."
My point is this: what is the value of the sacrifice of a sportsman, paid millions a year, versus the worker paid €1 an hour, who died on the construction site of the stadium in which you will play? The comparison is simply indecent. As indecent as the footballers who refused to take a 10% pay cut in the middle of Covid, while their club put some of its employees on short-time working, putting them in great financial difficulty.
We should rather be happy that sportswomen and sportsmen take 'the risk' to speak out on social issues (racism, treatment of Uyghurs in ChinaI don't see why footballers can't do it in 2021 or 2022. This is nothing new, Sócrates and Pelé did it 50 years ago, I don't see why footballers can't do it in 2021 or 2022. When I see the treatment of women referees at the Club World Championship final awards in Qatar, it is enough to make one revolt. Did you know that? Covid is a female virus, if there were no women on earth we would never have been locked down!
The last word
As I finish this article, we are just over a year and a half away from the start of the 2022 World Cup in Qatar. It's an event I look forward to every 4 years, but I have to admit that even though I'm an absolute football fan, holding this event in Qatar is an ecological and social aberration. This is not only a mistake, but also and above all a moral fault that only perpetuates the destructive system we have been living in for decades now.
I can't stand to see so much indecency from this absolutely out-of-touch world, which is also starting to practice excessive greenwashing. The latest example is PSG (my favourite club), which has announced a historic commitment to the climate: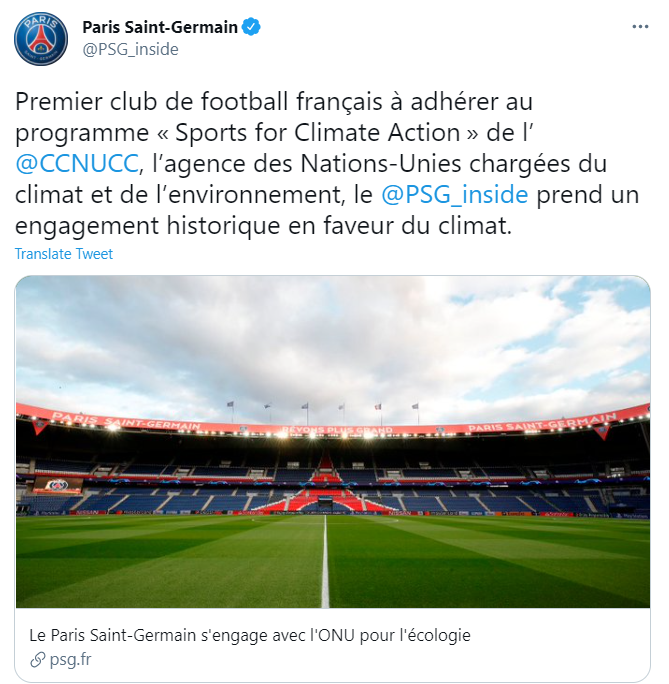 It's a mockery to talk about a historic commitment when your team flies halfway around the world to play an exhibition match. This should simply no longer be possible, no matter how many trees you plant to compensate.
Is it too late to boycott once you have qualified? The answer is obviously no. The media effect is at least tenfold when you participate in the event and leave once it has started. Remember the actress Adèle Haenel leaving the Césars ceremony after Roman Polanski won the award for best director for "J'accuse". It is never too late to set an example.
I will be following the news closely over the next few months, hoping that some sportsman (or team!) will boycott this World Cup. Imagine if Kylian Mbappe, with his 50 million followers on Instagram, boycotted the 2022 World Cup. Imagine the outpouring of support that would cause. In the back of my mind there is always that little glimmer of hope that it will happen. Unless, as usual, money and the entertainment society turn a blind eye to the living, and to the 6500 dead to build the stadiums.