On the morning of Friday 14 October, two environmental activists from the Just Stop Oil movement threw soup at Van Gogh's famous painting The Sunflowers, on display at the National Gallery in London.
Filmed by Damien Gayle, journalist for the Guardian, the scene instantly set the social networks alight, and several press articles (BFM, LCI, CNEWS…) were published within 30 minutes of the video's publication on Twitter: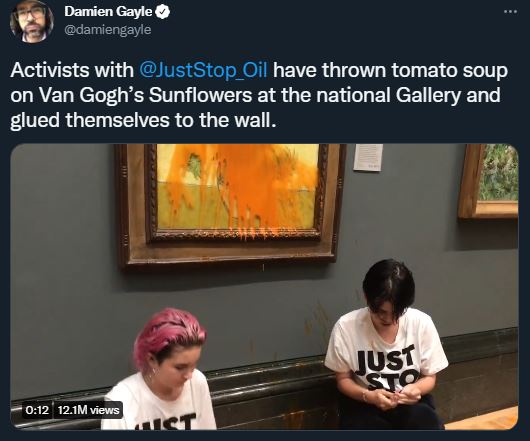 The media frenzy was followed by thousands of insults and indignations, both from the usual reactionary press, but also from some climate activists like Hugo Clément, who considers that they are not environmental activists but fools.
I propose to look back at this event and analyse the various reactions.
What does the Just Stop Oil movement want?
First of all, what is the demand of the Just Stop Oil movement? They call for "a commitment from the UK government to halt any new oil and gas projects". This is very important to remember, as the vast majority of comments will focus on the messenger rathen than the message.
The bottom line is that the IEA and the IPCC write in their reports that any new gas or oil project would take us out of the Paris Agreement. Failure to do so will have potential consequences for 3.3 billion people living in contexts that are highly vulnerable to climate change. It should also be remembered that the IPCC indicates that without early closure of some coal, gas and oil operations, we will exceed a warming of +1.5°C. This is what the scientific literature tells us.
In fact, no government in the world has a climate policy and action plan to meet the Paris Agreement. This is true for any government (British, French, American, Chinese, etc.) Worse, some governments continue to support new fossil fuel projects, aided and abetted by banks, insurers and others who choose to perpetuate an unsustainable system.
Art or life?
On its Twitter account, Just Stop Oil posted this message: "JUST STOP OIL SUPPORTERS CHOOSE LIFE OVER ART"followed by "Human creativity and genius are on display in this gallery, but our heritage is being destroyed by our government's inaction on the climate and cost of living crisis."
I don't think you have to choose between life and art, but it is indeed a good thing to ask how the commodification of art works, and how a painting can end up being worth more than 86 million euros. To make matters worse, Van Gogh did not really benefit from these millions during his lifetime…
Unprecedentedly violent reactions
In the 30 minutes following the action, the comments were unbelievably violent, as I have rarely seen in many years towards environmental activists. It is very common to accuse climate activists of being extremists, but are comparisons with terrorism justified?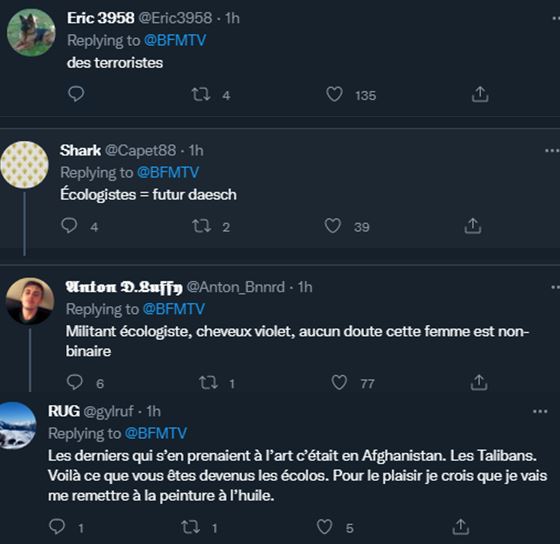 Then it was said in hundreds of comments that it was a scandal to damage a painting worth several million euros. Firstly, and only France Info was quick to relay the information, the British museum states that the painting is intact because it was glazed. Only the frame is slightly damaged. Without admitting their mistake, anyone who has commented too quickly in an attempt to create a buzz should lose all credibility.
Finally, why are the comments more violent towards this action than towards the climate inaction of governments and multinationals that kill thousands of people every year? Why are people more shocked here than by the 10,000 deaths from heat waves this summer in France? Why be more angry at these two women than at Total, which has lied since 1971 about its activities and their role in global warming, and which, like the EACOP project, continues to carry out climate-change projects?
Interestingly, throwing tomato soup on a Van Gogh is trending on Twitter in 20 minutes, and several news outlets had already published an article expressing outrage. I did not see the same treatment of information when Julia Steinberger, author of the 6th IPCC report, participated in a non-violent civil action and was arrested by the police. I did not see the same indignation two days earlier when the WWF released its report on the loss of biodiversity on a global scale, accelerated by the consumption of fossil fuels.
Were all the journalists, editorialists and influencers who came down on these two women and insulted them copiously even aware of this?
Reactance risk
The most important risk in this type of action is to have reactance. While these two activists wish to alert people to the climate emergency, it is possible that the only thing that will be retained is the form of the action, that some people will find it "stupid" and will not wish to change since "anyway, the ecologists are idiots and extremists".
Indeed, although they were never unanimously approved, some actions got much better press than this one on Van Gogh's painting. For example, when Alizée (a campaigner for Dernière Rénovation) hung on to the net at the French Open, the reactions were much less hostile.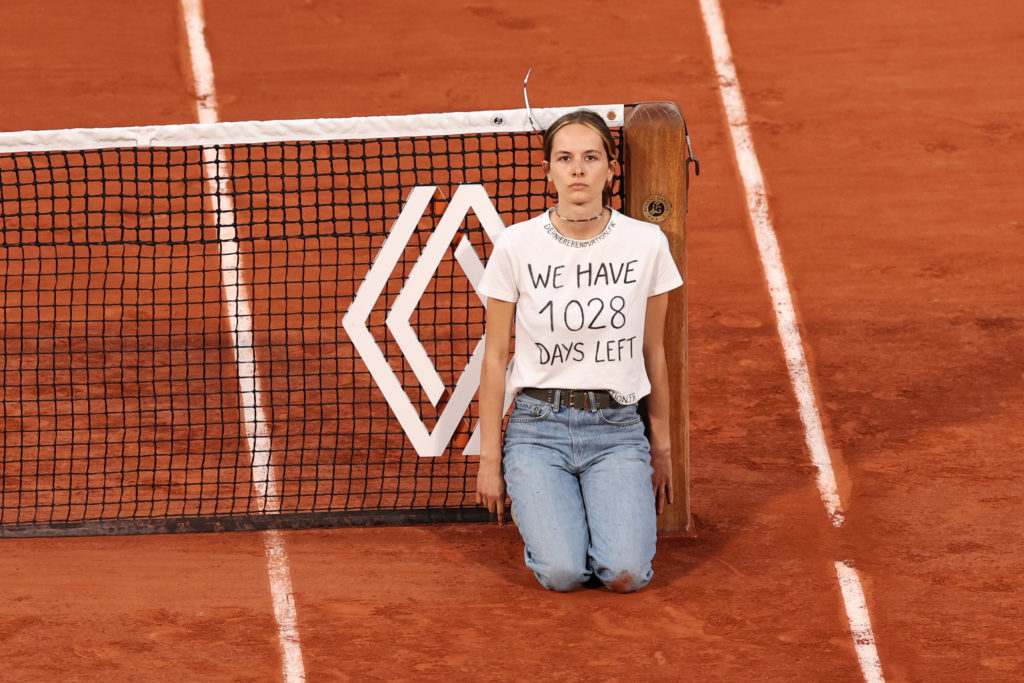 The blocking of the Tour de France had more or less the same reactions. On the other hand, the deflation of SUV tyres is already less popular, even among climate activists.
Reactions will be mixed and that is normal. Some will condemn, others will support, like the artist Joanie Lemercier, who declared that "art is useless in a burning world". It will also be interesting to follow the media treatment and the fake news that will circulate on each of the civil disobedience actions. Unfortunately, whether one agrees with these actions or not, there is a real risk that they will multiply, as long as governments and companies do not act and continue to do everything to maintain this deadly system. I personally would like to avoid this.
The last word
"Climate activists are often described as dangerous radicals, but the dangerous radicals are the countries that increase fossil fuel production." These are the words of UN Secretary General Antonio Guterres on the latest IPCC report. This is exactly what is happening here.
When states and companies do not assume their role in a possible ecological transition, it is not surprising to see desperate acts and/or civil disobedience. Desirable or not, these actions will multiply. For the sake of the debate, it would be nice to focus on the climate emergency and government inaction rather than on these two activists.